Forest type, tree scent, sweet, relaxing, soothing
Regular price
Sale price
¥3,300
Unit price
per
Sale
Sold out
love me and care for me
I want women who often live their lives prioritizing "someone else" over "self" to remember to value themselves first. This is a blend of herbs that have been used since ancient times to balance and balance women's health problems.

Product Details
raw materials
Shell ginger, black maple, mugwort, kudzu leaf, evening primrose, dandelion root, safflower, orange, black soybean, organic cotton

Internal capacity
60g

2 years from the expiration date of manufacture
About renewal sales
We are pleased to inform you that on June 10th, 2022, we will be relaunching our product "Wasou Herb Ball".
The newly reborn "Wasou Herb Ball" is based on our corporate philosophy and brand concept "Returning my time to myself".
It has further changed to a world view that conveys the message.
・Changed to organic cotton that gently wraps ・Changed to a scent that makes it easier to focus on "you" ・Changed to ziplock type packaging and can be stored in the refrigerator after use.
More eco-friendly, simpler. We have updated the version so that you can easily take care of yourself in your daily life, so that you can spend time thinking and feeling "cherish yourself", so please try it.


A one-of-a-kind self-care item that gathers herbs from all over Japan
The waso herb ball is a treatment in which various types of Japanese herbs are wrapped in a cloth and steamed and warmed and pressed against the whole body. The herb ball is called "herb moxibustion" because it is warmed to a pinpoint while being wrapped in scent. Mainly in Thailand and India, it has been used for treatment as one of the traditional traditional medicines, and is still provided as a medicine today. The softness and warmth of the herb ball will lead you to a deep state of relaxation.
It can be used by both men and women and is ideal as a gift.
The unisex design makes it easy to use as a self-care tool. You can also take care of each other with your family or partner. Perfect as a gift for Mother's Day, Father's Day, Respect for the Aged Day, Valentine's Day, etc.
How to use the herb ball
① Wet
Add a spoonful of salt and enough water to cover the herb bowl and stir until the salt dissolves.
Put the herb ball in it and wet it while kneading so that the salt water soaks into the center of the herb ball. Keep the handle as dry as possible.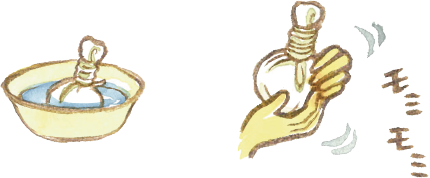 ② Warm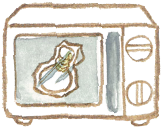 When using the microwave




Wrap a wet herb ball in plastic wrap and heat at 500w to 600w for about 1 minute. *There is a risk of fire if the herb ball is overheated or if there is not enough water in the herb ball. Please be careful.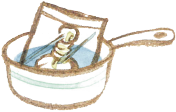 When boiling in a pot
Put the wet herb balls in a heat-resistant plastic bag and boil for about 2 minutes after the water boils.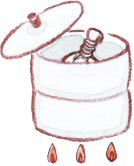 When using a steamer
Place only the wet herb balls in the steamer and steam for 10 minutes.
③ use
It's hot, so be sure to take it out with a towel that you don't mind getting dirty.
Please be careful not to burn yourself while adjusting the temperature, and apply it to your favorite place. If you apply it directly to your bare skin, the ingredients of the herb will easily penetrate and you will be able to feel the effect even more.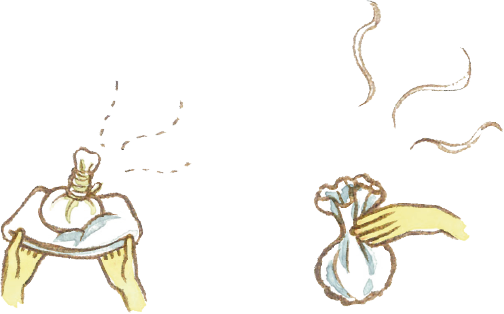 Preservation method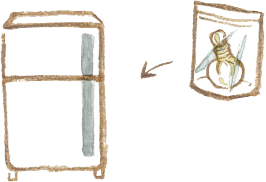 After use, when the rough heat is removed, put it in a cold-resistant plastic bag and store it in the refrigerator. If you store the herb ball once used at room temperature, there is a risk of mold and other problems. please note.
*No additives such as preservatives are used. If the product is stored in the refrigerator for a long time without being used, or if it is stored at room temperature, please dispose of it as combustible garbage.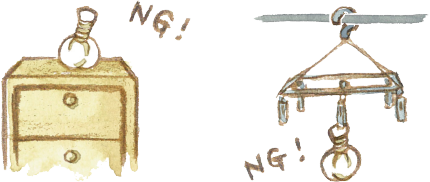 Expiration date
Depending on the storage conditions, it can be used repeatedly about 10 times until the scent disappears. When the scent is gone, you can put it in the bath and use it as a "herb bath ball", or put it back in the soil of a planter or garden and use it as a fertilizer. ). *When taking a bath, the herbal ingredients may stain the bathtub. After use, be sure to throw away the hot water.

For neck and shoulder care

The point is to apply while breathing deeply.
Focus on areas that feel good.
If you do it while stretching, it will be easier to unravel.
Not only does the shoulder blade move when placed under the armpit,
It also stimulates the lymph.

For care around the face

While rolling it around, pull it up.
For ears, eyes, head, chin, and entire face.
Your face will become brighter and refreshed.
for stomach care

Let's hit the Tanden and 6 points according to your breathing. Your stomach will move slowly.
Recommended when you want to relax.

For leg and knee care

Rolling soles. Just pinch your knees.
The refreshing feeling is addictive.

For waist and back care

Herb balls on the sacrum, waist, back, shoulder blades, neck, etc.
Just place it wherever you like and go to sleep.
For back care that is difficult to care for yourself.
Notes
If you are trying to conceive or are pregnant (after 22 weeks), please use "Yui".

Do not use until 22 weeks after the pregnancy is confirmed.

If you are allergic to raw materials, please refrain from using it.
This product is not for medical use. If you feel any discomfort during or after use, please stop using it immediately.
There is a possibility that the pigment of the herb seeps out. When using over clothing, please use a towel or cloth.
Immediately after heating, the herb ball will be very hot. Place the towel on the handle and be careful not to burn yourself.
If you take a bath, there is a risk that the ingredients of the herb will color the bathtub. After use, be sure to discard hot water.
If you store the herb ball once used at room temperature, there is a risk of mold and other problems. Please keep it in the refrigerator after use.
When heating in a microwave oven, there is a risk of fire if the contents are not sufficiently saturated with water. please note.
It may vary depending on storage conditions, but it can be used until the scent is gone.
All products are handmade, so there may be variations in the scent and shape.
Because we use natural and organic ingredients, the blend content may be partially changed due to natural disasters.
About payment method
Accepted payment methods
・Credit card (Visa, Mastercard, Amex, JCB)
・Shop Pay
・Apple Pay
・Google Pay
・Bank transfer (transfer fee will be borne by the customer)
Regarding delivery
Uniform 850 yen
Free shipping for purchases over 16,500 yen including tax.

We usually ship within 7 business days.
We can't deliver as quickly as major companies, but we will pack each item carefully. Please check the notice for long holidays.

In addition, it may take up to 10 business days for back-ordered items. We appreciate your understanding.
About packing
In "Living with Japanese Essential Oils", we use Yoshino cypress and Yoshino cedar planer scraps as cushioning materials in order to promote the use of domestic materials and eliminate plastics. Thin, curled planer scraps have a nice fragrance as they are, and can be processed and used in diffusers. Please enjoy yourself.

We do not accept gift wrapping, but please feel free to contact us if you have any questions.
シェア
View full details