Unscented
Regular price
Sale price
¥1,100
Unit price
per
Sale
Sold out
Proven track record and reliability of konjac scrubbing brushes that have been used for babies for 120 years
A konjac sponge that becomes bouncy when soaked in hot water.
Its texture is surprisingly soft and smooth, and it has been popular for a long time.

Konjac was brought to Japan with Buddhism 1,500 years ago.
In fact, it seems that eating it on a daily basis is unique to Japan.
Currently, more than 90% of konjac potatoes in Japan are grown in Gunma prefecture.

However, organic konnyaku is less than 1% and rare! ! !
One of those farmers is Yamamoto Farm.

We create soil that takes advantage of the natural circulation function, and carefully observe the condition of the konnyaku.
We cultivate by drawing out the original vitality and antibacterial power of the plant with our own developed revitalizing agent.
The production of safe konjac sponge begins with the preparation of the soil to grow the raw material, konjac.

In some of the production areas, konnyaku that has been frozen and fibrous for 120 years is called "konnyaku scrubbing brush".
I've used it to wash my baby's body.
You didn't need soap, and it was discovered that the soft, bouncy texture was good for skin care.
However, it did not come out to the world very much as a product for self-consumption in only a few regions.
Lovers of konjac sponge spread all over the world, including Europe and the United States
In 1990, Yamamoto Nojo believed in the potential of konjac sponges, developed a production method that enabled stable supply and maintained quality, and started selling it.
By word of mouth, the number of regular users has gradually increased, and it has been well received, saying that it can be used safely and makes the skin smooth and moist.
It has become known as a natural facial cleanser.

Overseas demand is growing significantly, and the number of regular users of "Konjac Sponge" is increasing in Sweden, Canada, Dubai, Australia, Taiwan, Thailand, Singapore, mainly in the United States and France, and the skin care properties of konjac are recognized worldwide. is being taken away.
How can you wash your face without face wash?
Any skin irritation?
The surface of the sponge soaked with plenty of water is covered with a film of slightly alkaline water. This membrane neutralizes and decomposes dirt (weakly acidic dirt, etc.) that clogs the pores, keeping the skin healthy.
Even if you don't use force, you can just slide it on your skin and it will remove dirt from your pores, so it won't break the barrier of the stratum corneum.

Many people who use konjac sponges have sensitive skin, and in order for them to remove dirt without irritating their skin, we believe that it should have a mild, slightly alkaline pH of 8.0 to 9.0.
According to the PH test, Yamamoto Farm's konjac sponge recorded "PH8.4".

If you compare this with, for example, an overseas product, you can see the difference.

✖️Made in Korea PH6.7→Neutral and weak detergency. Neutral "Konjac" is unthinkable, and it has a brilliant whiteness that is not found in nature. This is probably due to the use of other ingredients and antibacterial agents. It is clear that "ingredients other than konjac" are used, but there is no indication of them.

✖️Made in China PH9.5 → High detergency, but heavy burden on the skin. Although it is barely in the range of weak alkalinity, it is a strong stimulant to sensitive skin and may cause skin problems for some people. Not recommended for sensitive skin.


In addition, as a result of the patch test, the response to stimulation was "0.0", which was almost no result.
* It does not mean that stimulation will not occur to everyone. Conducted by SOUKEN Co., Ltd.
How safe are Yamamoto Farm's konjac sponges?
Doesn't it contain preservatives?
At Yamamoto Farm, we do not use any preservatives, antibacterial agents, or petroleum-derived ingredients, and make products using only konnyaku.

Preservatives (paraoxine benzoic acid = paraben) and antibacterial agents (5-chloro-2-methyl-4-isothiazolin-3-one is methylchloroisothiazolinone, 2-methyl-4-isothiazolin-3-one is methylisothiazolinone) Azolinone) and petroleum-derived components (plastic agents: phthalic acid, bisphenol A) have been analyzed, but none have been detected.
All ingredients displayed for safe use Differences from overseas products and low-priced products
Yamamoto Farm's konjac sponge displays all the ingredients on the package because we want customers to use the product with peace of mind.

Originally, there is no obligation to display all ingredients because konjac sponges are not "cosmetics".

However, konjac sponges made in China and Korea have
Even if an antibacterial agent is used, it is not indicated on the package and is "100% natural. There are also products labeled as safe for babies.

A survey of foreign-made konjac sponges distributed in Japan has confirmed that methylisothiazolinone is used.
This methylisothiazolinone is an antibacterial agent that is prohibited from being used in products that are left on, such as skin care and makeup products, and is permitted to be used within a limited range only in products that are washed off immediately, such as shampoos and conditioners.

Many antibacterial agents are strongly irritating to babies and people with sensitive skin, and in some cases, they may cause skin problems, so caution is required.
How to use and store
① Put it in hot water and lightly knead it to soften it immediately. Please use it after inflating it enough.

✖️ Use as hard as possible


2. Lather well with soap or facial cleansing foam, and wash gently by stroking. Can be used without soap.

✖️ Scrub
③ Konjac fibers are delicate. After use, wash with tap water as if squeezing, and press with the palm of your hand to drain.

✖️ Twist and squeeze


④ After draining the water, put it in a Tupperware and store it in the refrigerator.

✖️ Leave it in the bathroom





Precautions for use

The expiration date is about 1 month.
Please use after removing makeup.
Compared to chemical sponges, it is inferior in mold resistance and durability.
Since it is an additive-free product, mold may grow if it is not used carefully.
If you use it with bath salts, make sure the bath salts do not contain enzymes. Enzymes break down the fibers in konjac.
"KOMACHI" is an eco-friendly product made from 100% plant-based materials and carefully packaged.
The konjac sponge "KOMACHI" uses 100% recycled paper pulp, without using any petroleum-derived products, not only in the product but also in the packaging.
It is an eco-friendly product that considers the global environment.

Yamamoto Farm's konjac sponges are all made from natural ingredients.
After use, it returns to the soil, where konnyaku grows and becomes a sponge again.
It is a sustainable sponge that returns to the soil once it has fulfilled its role of cleaning the skin.
About payment method
Accepted payment methods
・Credit card (Visa, Mastercard, Amex, JCB)
・Shop Pay
・Apple Pay
・Google Pay
・Bank transfer (transfer fee will be borne by the customer)
Regarding delivery
Uniform 850 yen
Free shipping for purchases over 16,500 yen including tax.

We usually ship within 7 business days.
We can't deliver as quickly as major companies, but we will pack each item carefully. Please check the notice for long holidays.

In addition, it may take up to 10 business days for back-ordered items. We appreciate your understanding.
About packing
In "Living with Japanese Essential Oils", we use Yoshino cypress and Yoshino cedar planer scraps as cushioning materials in order to promote the use of domestic materials and eliminate plastics. Thin, curled planer scraps have a nice fragrance as they are, and can be processed and used in diffusers. Please enjoy yourself.

We do not accept gift wrapping, but please feel free to contact us if you have any questions.
シェア
View full details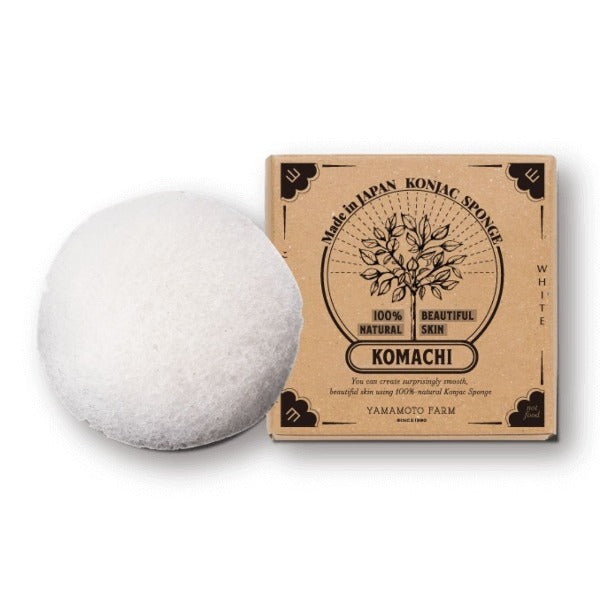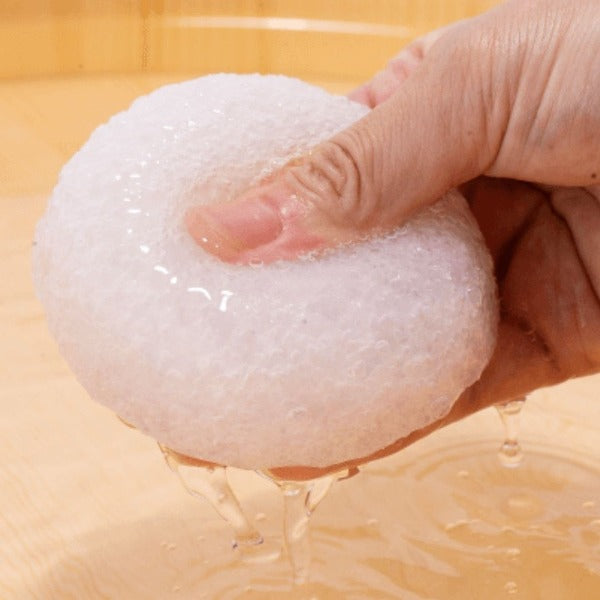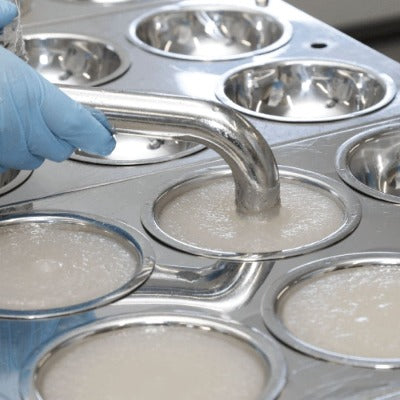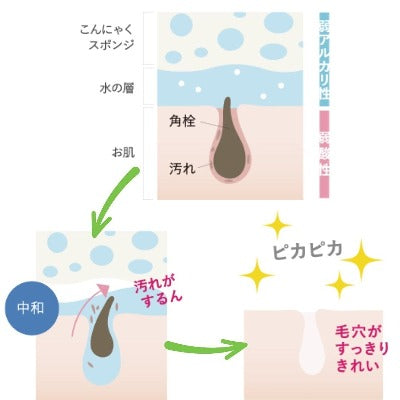 100%食用こんにゃくスポンジ
届いてさっそく夜から使ってみました!
洗顔で使用したところお風呂上がりに化粧水の入りがとても良く肌の乾燥がないように感じました。
お風呂に浸かりながらデコルテから腕までにも使用してしまいました。
お風呂のお湯に浸しながら使用することで
こんにゃく感がよりあり気持ち良い肌触りでした。
Mayuさん、こんにゃくスポンジKOMACHIへのレビュー、ありがとうございます!
不要な角質をやわらかいこんにゃく繊維が取り除いてくれますし、中和して汚れを取れやすくしてくれる昔ながらの日本人の知恵が詰まったスポンジ、体験していただけたんですね。私も、お顔だけでなく、デコルテのケアにはピッタリだなと思う商品です。ぜひ、これからもお風呂タイムについでにやさしくお肌のケアをしてください。
100%食用こんにゃくスポンジ
届いてさっそく夜から使ってみました!
洗顔で使用したところお風呂上がりに化粧水の入りがとても良く肌の乾燥がないように感じました。
お風呂に浸かりながらデコルテから腕までにも使用してしまいました。
お風呂のお湯に浸しながら使用することで
こんにゃく感がよりあり気持ち良い肌触りでした。
Mayuさん、こんにゃくスポンジKOMACHIへのレビュー、ありがとうございます!
不要な角質をやわらかいこんにゃく繊維が取り除いてくれますし、中和して汚れを取れやすくしてくれる昔ながらの日本人の知恵が詰まったスポンジ、体験していただけたんですね。私も、お顔だけでなく、デコルテのケアにはピッタリだなと思う商品です。ぜひ、これからもお風呂タイムについでにやさしくお肌のケアをしてください。